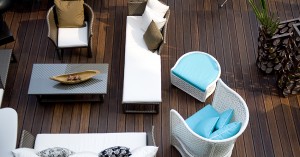 The season is upon us and Weston Premium Woods is proud to offer our thermo-treated hardwood and thermo-treated bamboo decking/siding solutions that look and feel like exotic woods yet outperform them across the five most important characteristics: Appearance, Durability, Stability, User Friendliness and Environmentally Sustainable.
Did you know:
Thermo-treated material is 7 times more stable than material without the treatment to prevent splinters, warping, checking, expansion and contraction?
Our products are all end matched to ensure a 98%+ yield on your projects while reducing installation times by up to 40%?
Thermal conductivity is reduced?  Your deck will remain at a comfortable temperature no matter how hot it gets.
Our newest product, thermo-treated Bamboo, is especially interesting, offering the look and feel of real wood with all the benefits of a composite product including:
Cuts and molds like real wood (made with real wood fibres)
A real Class A fire spread and Class A durability rating
An environmentally responsible product that qualifies for contribution towards LEED credits
Lowest expansion (0.03mm) in the industry
Tensile strength of 28,000 psi, stronger than most steel at 23,000 psi
With our line of thermo-treated products, we know we carry the very best Hardwood (Thermofied Ash)and Composite (thermo-treated bamboo) on the market today – designed to enhance your projects and save you time, effort and the frustration inherent in working with exotic woods.
Enjoy the warm weather on your brand new outdoor deck!